FLR hosted a series of meetings on UCF's Orlando campus on May 1st and 2nd.  The Board of Directors met for its quarterly meeting on the morning of May 1st followed in the afternoon by our first-ever All-Members meeting. The meetings wrapped up on Tuesday, May 2nd, with breakout sessions for FLR member institution engineers and for the Sunshine State Education and Research Computing Alliance (SSERCA).
Members were able to participate either in-person or online and all events were well-attended.  "This was our first time hosting representatives from all FLR affiliate institutions," said CEO Jon Ellis.  "The turnout was even better than we expected.  It was great seeing so many members of the FLR family come together."
The Member Meeting included informative sessions covering Cybersecurity, Artificial Intelligence, a FLR/Education/Government use case, and FLR's backbone upgrade.
The Cybersecurity discussion included David Zambri, UCF's Chief Information Security Officer, and Justin Crenshaw, a Supervisory Special Agent with the FBI's Orlando office who discussed tips for securing your institution's networking environment. SSA Crenshaw gave a fascinating presentation detailing aspects of the FBI's recent role in taking down a ransomware network, including helpful tips on protecting your organization ahead of time and how to respond if attacked.
FLR Board Member Elias Eldayrie, Vice President and CIO at the University of Florida, and his colleague Dr. David Reed, Associate Provost for Strategic Initiatives and Inaugural Director of the UF AI2 Center, gave an informative and engaging presentation on the emerging field of Artificial Intelligence, how it is being deployed across the academic curriculum, and how tools are being developed for use in many fields, not just education.
FLR Board Member Jason Ball, FAU's Associate Provost and CIO, along with Mike Butler, Palm Beach County's Director of Network Services, and Jeff Schilit, FLR's Chief Business Development Officer, came together to present a use-case highlighting how the three organizations work together to expand network access across the Palm Beach region.  Attendees were given insights into how partnering with other FLR users in a geographic region can extend benefits to a greater number of participants.
FLR's Chief Network Architect Chris Griffin wrapped up the afternoon with an in-depth look at FLR's currently-in-progress backbone upgrade from our current 100Gbps to 400Gbps.  400Gbps is the new international standard for R&E networking.  The upgrade is nearly complete and undergoing testing.  We look forward to making a formal announcement once the fabric is fully operational in the near future.
FLR's next Board meeting will be held in August.
---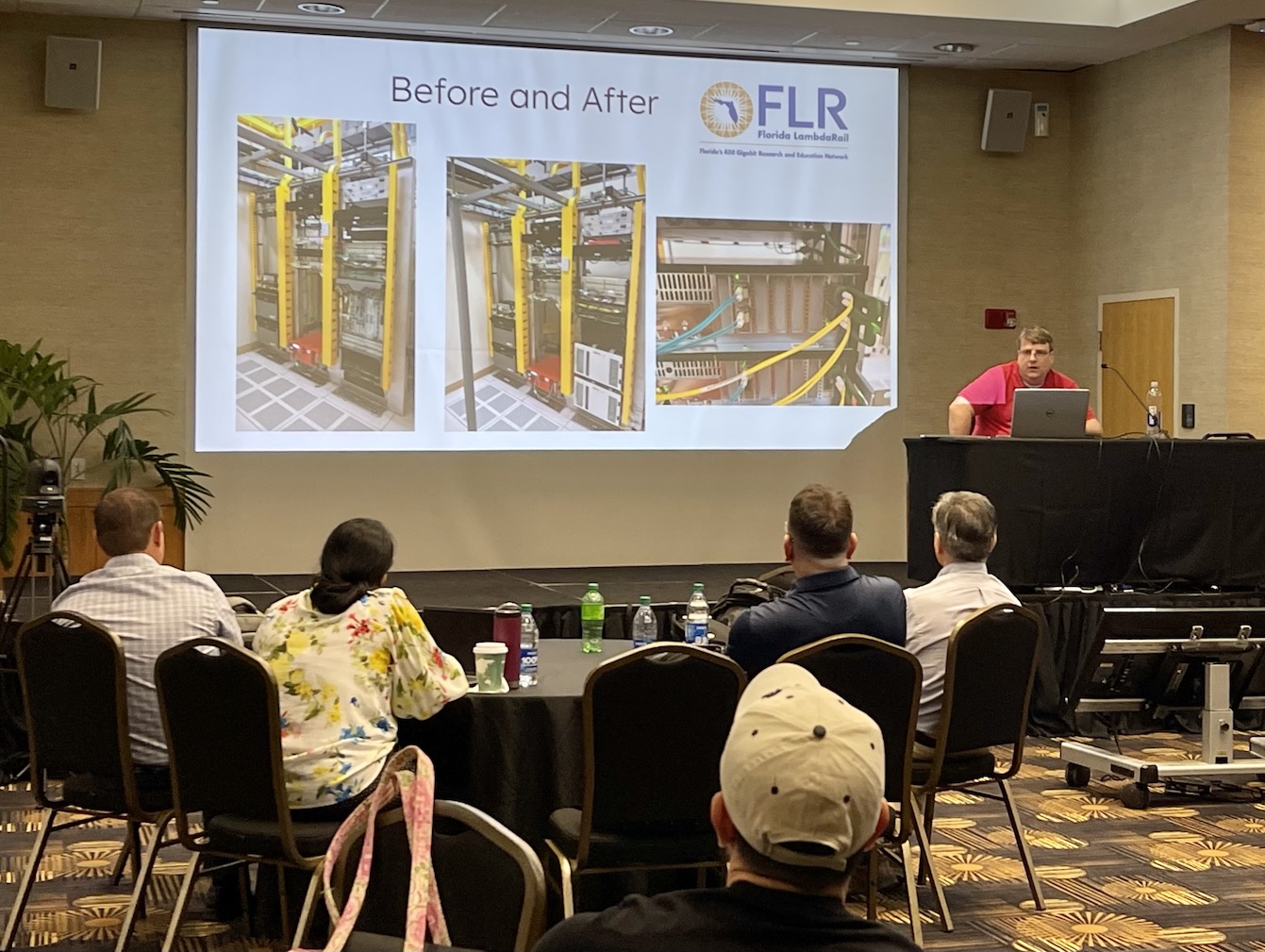 Chris Griffin, FLR Chief Network Architect, briefs attendees about the benefits of our upgrade to 400Gbps